Gadriel — a scent inspired by The Night and Its Moon
Regular price

Sale price

$28.00
You all asked, and he's finally here! Introducing Gadriel, the newest addition to The Night and Its Moon collection! This captivating scent blends the Raascot General's signature black cherry scent with subtle notes of leather and smoke. 
"Put it down," the voice snarled into her ear with low, dark authority. The sound of his voice flooded her with adrenaline while her other sense were assaulted by leather, pepper, and something like black cherries. His lips had nearly grazed her hair as he spoke. The assailant's breath on her ear sent a chill down her spine."

- The Night & Its Moon
Scent Profile
Top Notes: saffron, citrus, spruce
Middle Notes: black cherry, black currant, sage
Base Notes: dark musk, amber, leather, smoke
Product Description

This candle is a blend of coconut and soy waxes.

Standard - a matte ceramic jar that measures  3.75" high and 3.5" in diameter. Your candle will have 11 oz. of wax by weight.

Burn time is approximately 40 hours. (best value)

Junior -  a medium sized candle tin that measures 1.65" high and 2.81 " in diameter.

Burn time is approximately 10 hours. 

Limited Edition - The limited edition candle is a coconut soy wax blend that comes in a matte tumbler jar with a warm gold interior. Each candle has a white film label with the scent description and batch number. The tapered jar measures 3.5" high and roughly 3" in diameter. When lit, the gold lining reflects a soft warm glow. Burn time is approximately 32 hours.
Candle care

Initial Burn 

The first time you burn your candle sets the tone for how it will burn for the rest of its life. Burn the candle until the wax pool (the melted part around the wick) reaches the edge of the jar or tin. This will prevent tunneling and wasted wax. It will take approximately 1-1.5 hours.

General Care + Safety

Always keep the wick trimmed to 1/4 inch. Occasionally, wicks will mushroom, this is a black cap at the end of the wick that resembles a mushroom. If present, make sure to remove prior to burning. Keep the candle free of debris, even the wick trimmings. 

Don't burn your candle near flammable stuff (curtains, we're looking at you) or leave unattended. Definitely don't burn any candles when you're sleeping. 

Don't burn the candle all the way to the end. Leave about 1/4 inch of wax at the bottom of the vessel. This will keep the vessel from getting too hot and potentially damaging the surface it is sitting on.
Share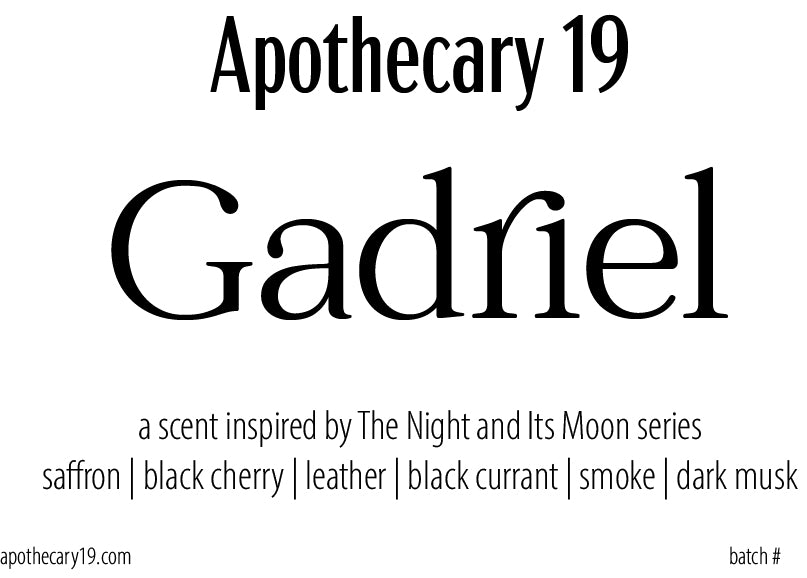 More Please!
I love this leather and dark fruit scent, I will have a hard time making this candle last. Whoever is in charge, please pretty please make this into a perfume! Cuz I'd wear it and more importantly, I'd slather it all over my boyfriend too. So good!