No. 23 - a fall scent inspired by warm apple cider with friends
Regular price

Sale price

$6.50
Warm apple cider, boozy or not, is a fall staple in my house. It's like a tiny hug. No. 23 was inspired by early fall nights and bonfires in the backyard with friends. A little spicy, fresh sweet apples, and that hint of whiskey that hits your nose right before you take a shot. While this scent itself is a bold and spicy, the way it fills the room is subtle and a bit cozy. 


Scent Profile
Top Notes: Whiskey, Bergamot, Green Leaves
Middle Notes: Apple, Coriander, Honey, 
Base Notes: Tonka Bean, Oak, Smoke, Tobacco Leaves, Cedar
All of our ingredients are the highest quality and sourced in the United States. Have questions? Contact us!
Product Description

This candle is a blend of coconut and soy waxes.

Product Description

2 oz. tins are sample sized. The tins are roughly 2 inches in diameter and 1.5 inches tall. Maximum burn time is approximately six hours.

6 oz. tins are great for small rooms and gifts. The tins are roughly 3 inches in diameter and 2 inches tall. Maximum burn time is approximately 10 hours.

11 oz. ceramic jars are great for any space. Our current inventory is black matte. They are roughly 3.5 inches in diameter and 3.75 inches high. Maximum burn time is approximately 40 hours.
Candle care

Initial Burn 

The first time you burn your candle sets the tone for how it will burn for the rest of its life. Burn the candle until the wax pool (the melted part around the wick) reaches the edge of the jar or tin. This will prevent tunneling and wasted wax. It will take approximately 1-1.5 hours.

General Care + Safety

Always keep the wick trimmed to 1/4 inch. Occasionally, wicks will mushroom, this is a black cap at the end of the wick that resembles a mushroom. If present, make sure to remove prior to burning. Keep the candle free of debris, even the wick trimmings. 

Don't burn your candle near flammable stuff (curtains, we're looking at you) or leave unattended. Definitely don't burn any candles when you're sleeping. 

Don't burn the candle all the way to the end. Leave about 1/4 inch of wax at the bottom of the vessel. This will keep the vessel from getting too hot and potentially damaging the surface it is sitting on.
Hurry, only 4 items left in stock!
Share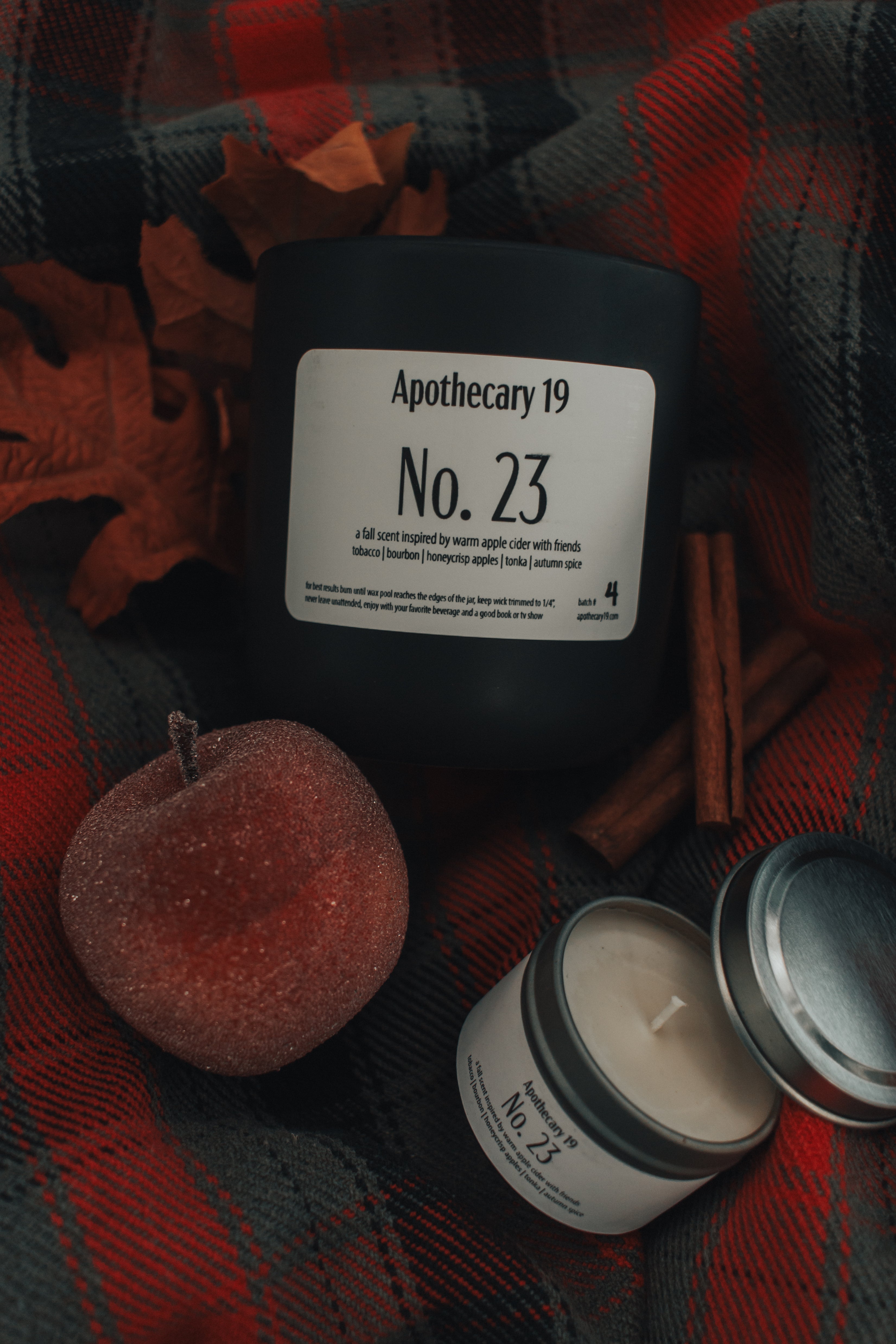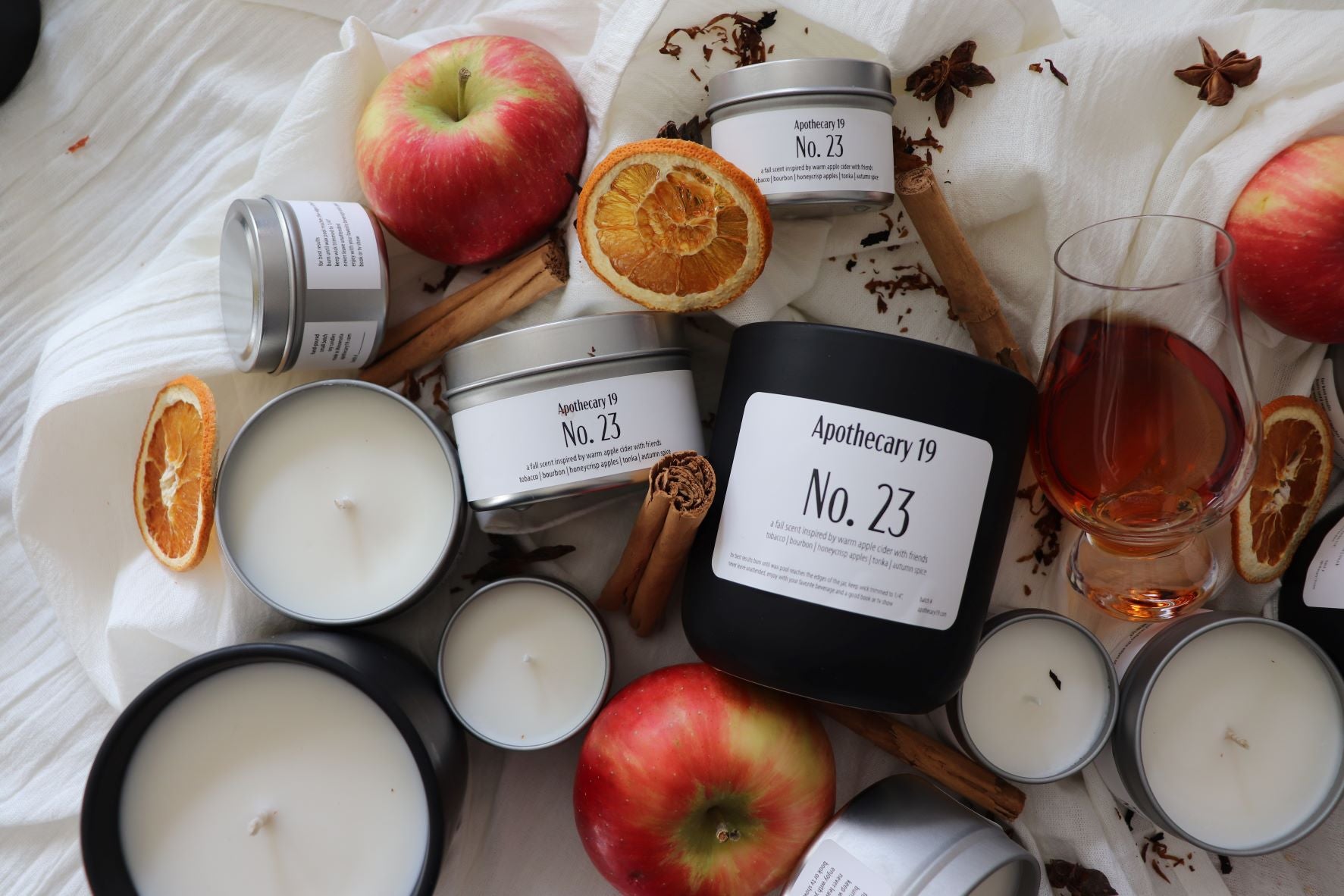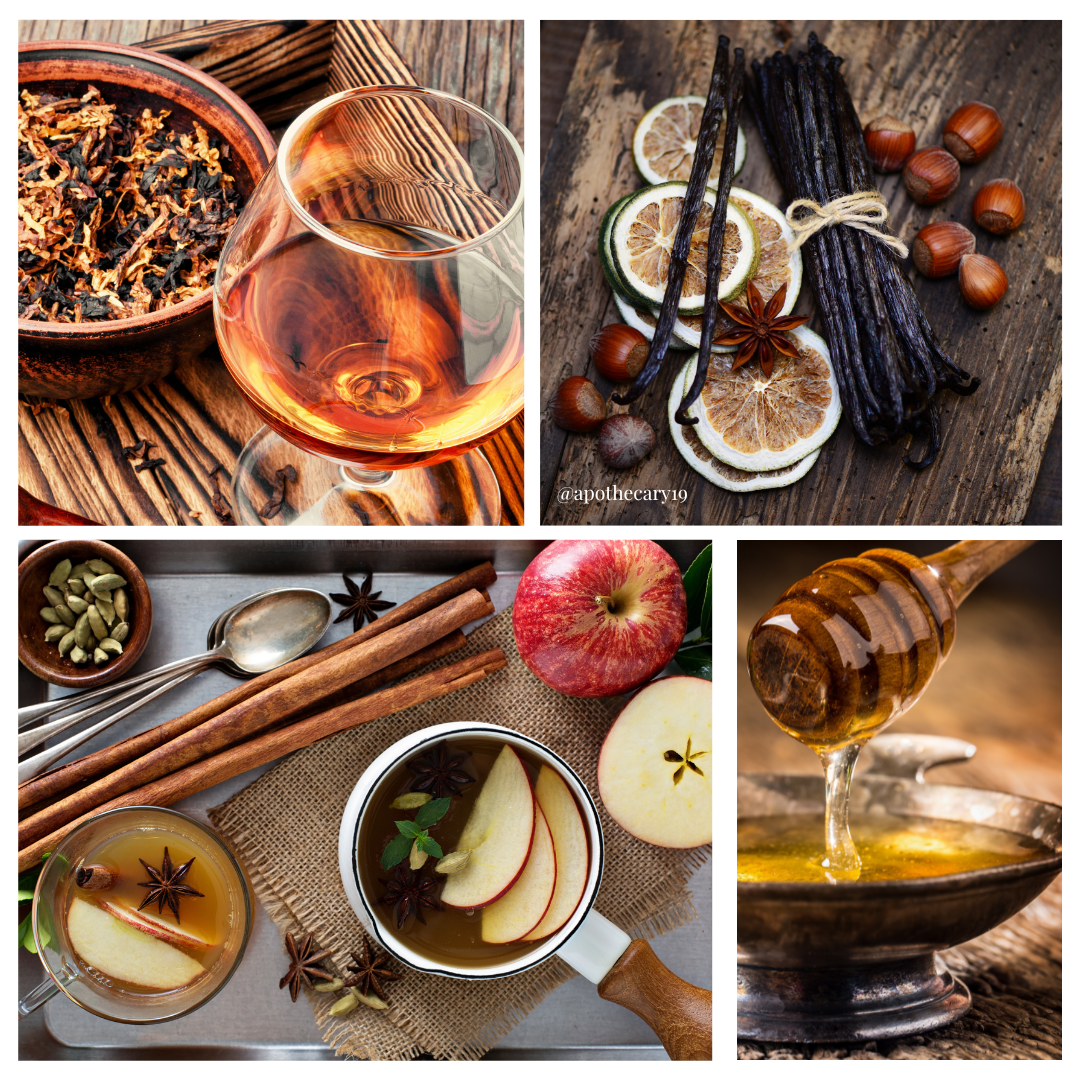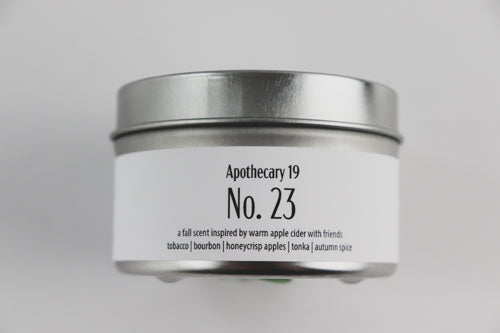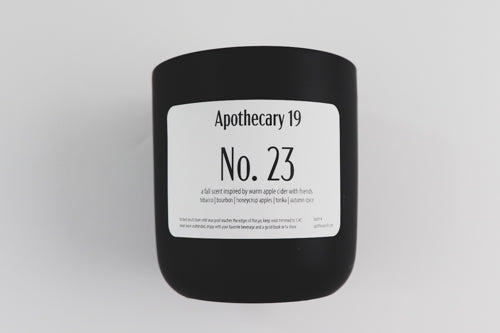 Cider Toddy in a Candle
This one. I light No. 23 when I want to relax after a long day. It smells just like warm apple cider around a campfire, like slowing down and enjoying the little things - laughing with friends late at night. It's cozy like the blanket you wrap around your legs at the bonfire. Also the burn time is great, the 6oz tins last forever.
No. 23 - a fall scent inspired by warm apple cider with friends
Loved that it wasn't too sweet. Burns beautifully!
I love it!!
I love the smell and the pretty holder. I love it!