Ash — a scent inspired by The Night and Its Moon
Regular price

Sale price

$28.00
Introducing, Ash—a character candle is inspired by the best selling fantasy series, The Night and Its Moon by Piper CJ. Known as 'The Pumpkin Spice Reever' this candle features notes of fall, with a dash of fierce warrior. 
"He looked—and smelled, if she wasn't mistaken—distinctly of autumn. There was a spice about his relaxed energy. "
- The Night & Its Moon
Scent Profile
Top Notes: cinnamon, citrus, green leaves
Middle Notes: gin, green leaves, apple, amber
Base Notes: cedar, cypress, pecan, amyris 
Product Description

The limited edition candle is a coconut soy wax blend that comes in a matte tumbler jar with a warm gold interior. Each candle has a white film label with the scent description and batch number. The tapered jar measures 3.5" high and roughly 3" in diameter. When lit, the gold lining reflects a soft warm glow. Burn time is approximately 32 hours.
Candle care

Initial Burn 

The first time you burn your candle sets the tone for how it will burn for the rest of its life. Burn the candle until the wax pool (the melted part around the wick) reaches the edge of the jar or tin. This will prevent tunneling and wasted wax. It will take approximately 1-1.5 hours.

General Care + Safety

Always keep the wick trimmed to 1/4 inch. Occasionally, wicks will mushroom, this is a black cap at the end of the wick that resembles a mushroom. If present, make sure to remove prior to burning. Keep the candle free of debris, even the wick trimmings. 

Don't burn your candle near flammable stuff (curtains, we're looking at you) or leave unattended. Definitely don't burn any candles when you're sleeping. 

Don't burn the candle all the way to the end. Leave about 1/4 inch of wax at the bottom of the vessel. This will keep the vessel from getting too hot and potentially damaging the surface it is sitting on.
Hurry, only 2 items left in stock!
Share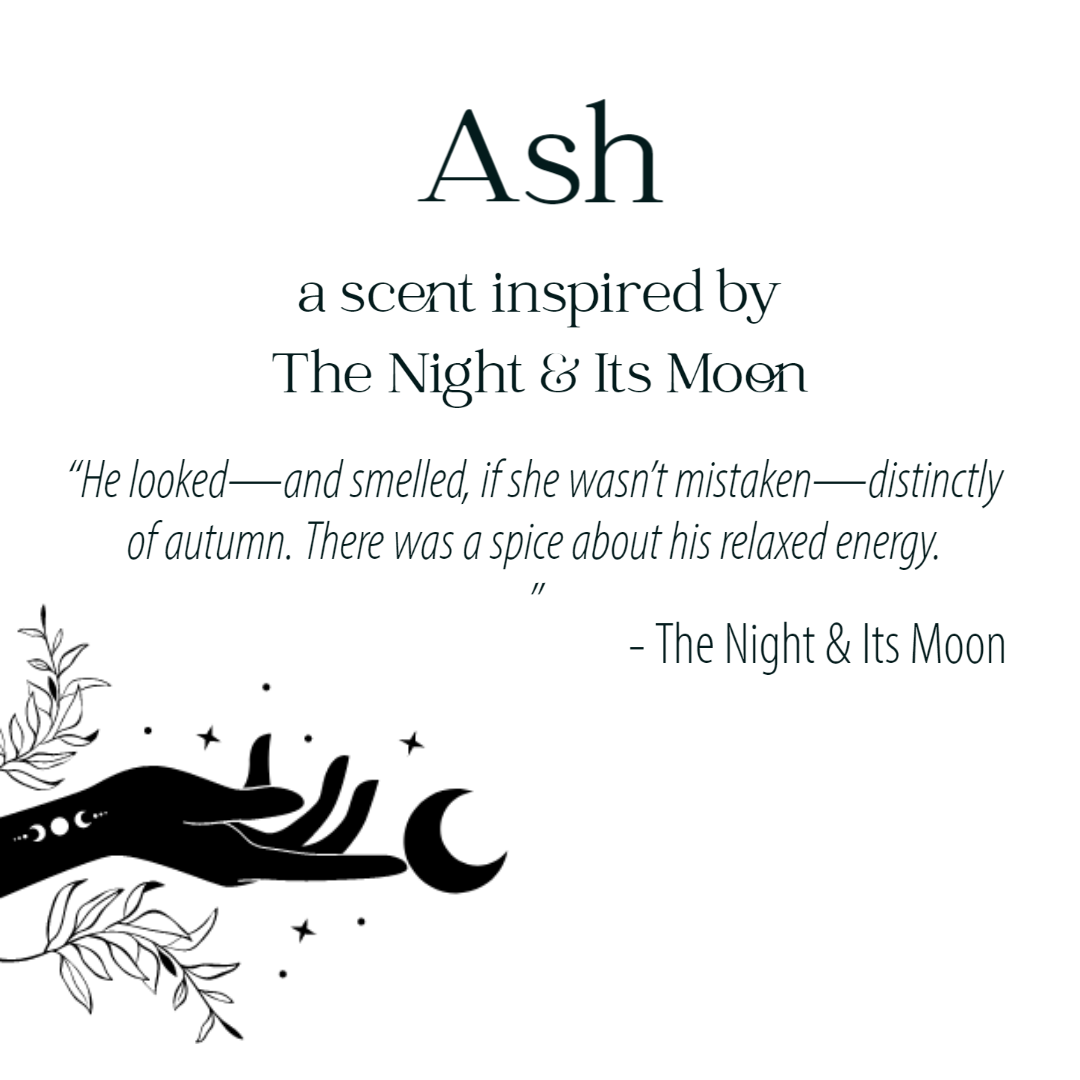 Ash — a scent inspired by The Night and Its Moon
This candle makes me feel like I'm time travelling to fall
I love this candle so much. Not only does it smell exactly like I expected Ash to smell, I really feel like fall is approaching when I light it. This is quickly becoming my favorite candle and I hope there will be more runs of it in the future. Fall is my favorite season and I love being able to smell it through terrible heat waves.
SO good!
This scent blew me away. I didn't expect to like it that well but Lindy was so excited for it that I gave it a try and I'm glad I did! Def a new favorite. It's the coziest thing I've ever smelled.