Fall Collection Gift Set
Regular price

Sale price

$39.00
As we celebrate another turning of the wheel, the return of the dark part of the year, the 2022 Fall collection represents some of this seasons favorite activities, scents, and beverages. A new season of remembrance and reflection is creeping in. Embrace the crisp air and the festivities that are around the corner. This set is available in 2 ounce or 6 ounce tins and includes scents No. 19, No. 20, No. 21, No. 22, No. 23, and No. 24 
Scent Descriptions
No. 19 is cozy. It's spicy. It is also pumpkin and coffee. The cold throw (scent you smell when you're not burning the candle, is equally as strong as the hot throw (what you smell when you are burning it.
No. 20 is an ode to our annual trip to apple orchard. The sun is warmer than you think it's going to be, but the air is crisp. You can smell the changing leaves. Families everywhere are having fun and making core memories. 
No. 21 is a love letter to the first morning we feel fall creeping into the air. The morning when you step out side and the air is crisp. There's a freshness in the air that is wet, and still a little thick because the heat will show up later in the day. But you take a good deep breath and smile because you know fall will be here before you know it.
No. 22 is inspired by that trusted sweater that gets you through the first cold days of fall and then the coldest days of winter. The one you wear when you're reading, your house sweater. Maybe you stole if from your partner. It's cozy, it's moody, it's a vibe.
No. 23 was inspired by early fall nights, boozy hot apple cider, and bonfires in the backyard with friends. A little spicy, fresh sweet apples, and that hint of whiskey that hits your nose right before you take a shot. 
No. 24  is an ode to bonfires,  a cool weather staple. In my neighborhood, during the cooler months, it isn't uncommon to smell a few fires going on a Friday night. The sounds of conversation and laughter along with the comingling of several different types of music drift through the air in the smoke. It is sitting around a bonfire, taking in nature, and relaxing. It is laughing with friends and burnt marshmallows.  
No. 33 has it all—all the cozy fall feels! We're talking spice, apples, brisk autumn air. You know the cinnamon brooms they put at the front door of shops in the fall? No. 33 is what you want them to smell like. All fall, but not too aggressive. 

Product Description

2 oz. tins are sample sized. The tins are roughly 2 inches in diameter and 1.5 inches tall. Maximum burn time is approximately six hours.
6 oz. tins are great for small rooms and gifts. The tins are roughly 3 inches in diameter and 2 inches tall. Maximum burn time is approximately 10 hours.
All of our ingredients are the highest quality and sourced in the United States. Have questions? Contact us!
Hurry, only 4 items left in stock!
Share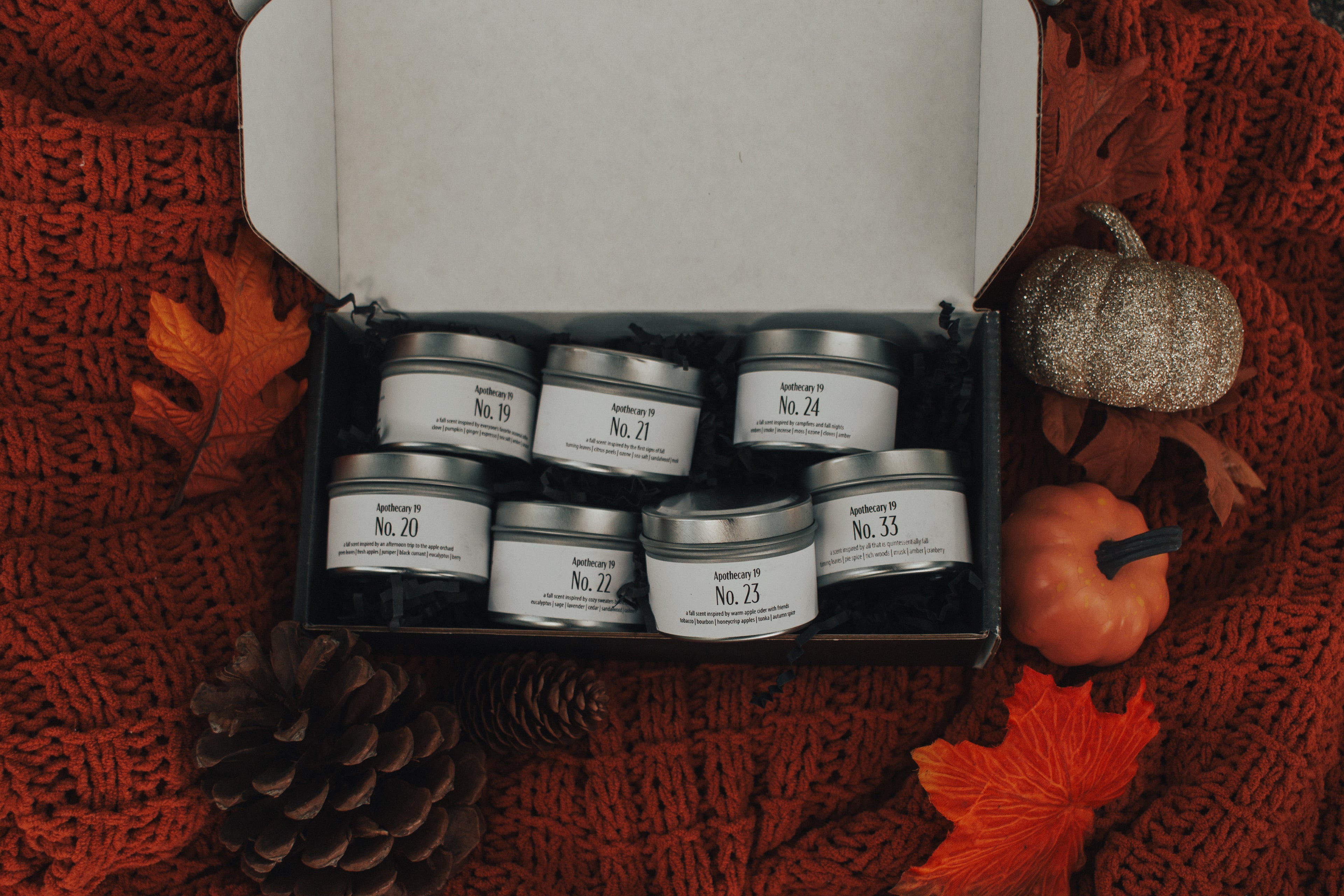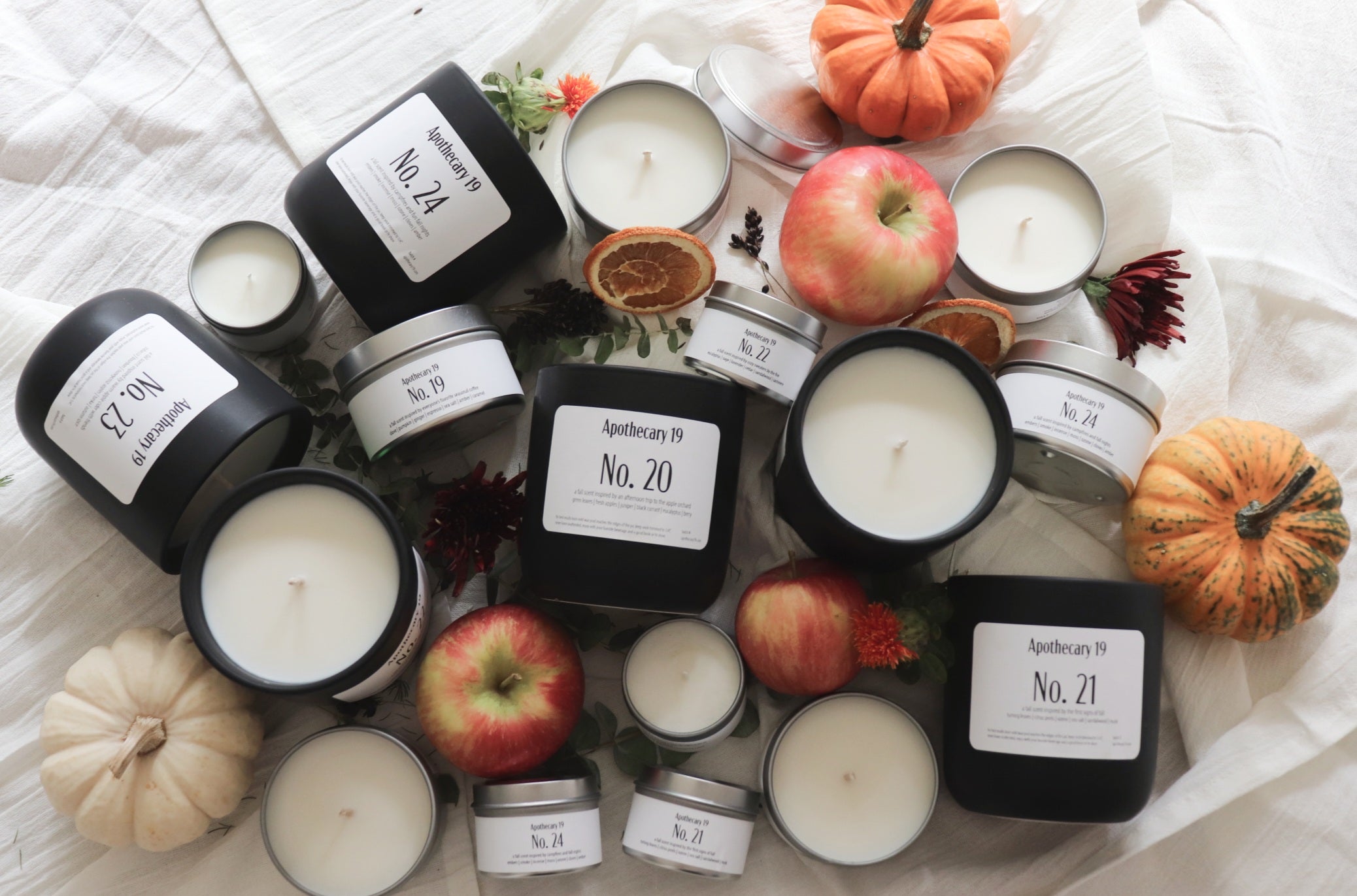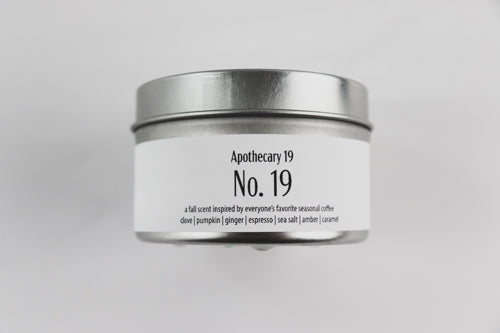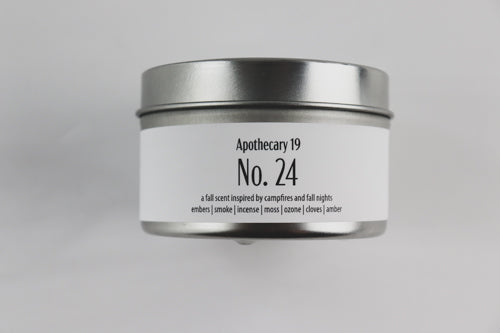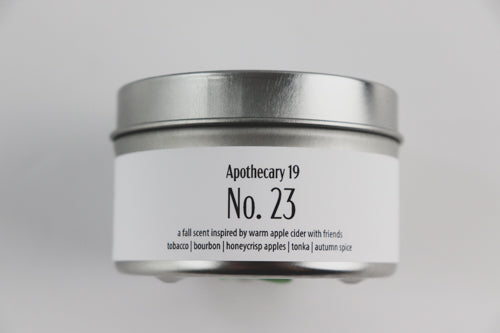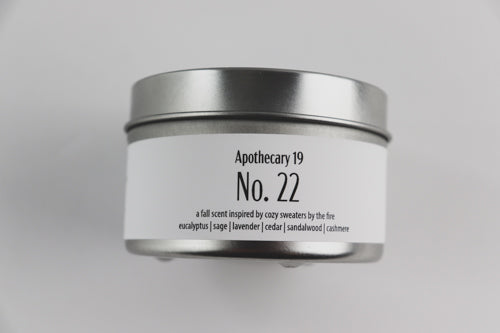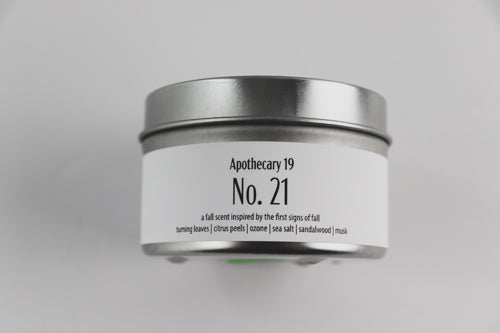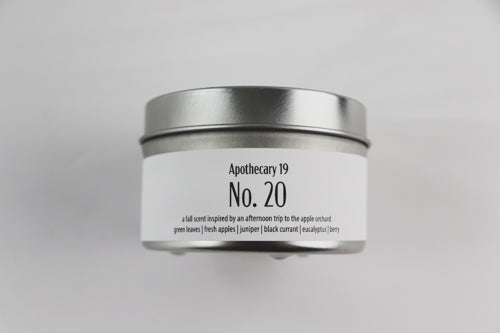 Fall collection is a win!
I ordered the fall collection because it's been 90 degrees in California and I desperately needed it to smell like fall in my house! I'm so glad I ordered this collection because I get to try all the different scents and see which I want to order a full size of. No 33 and 21 I'm definitely ordering full size!😍😍